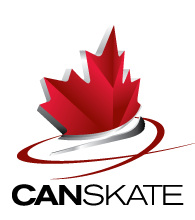 We are excited to be able to offer Pre-Canskate and CanSkate sessions once again. Please take note of our Covid-19 Policy to help keep everyone safe.
CanSkate Learn-to-Skate Program
A dynamic updated Learn-to-Skate program that prepares all skaters for recreational skating and virtually every ice sport. The new program includes specific skills that pertain to hockey, ringette, speed skating and figure skating.
We are proud to have all our programs taught by professional coaches who are specially trained and certified through the National Coaching Certification Program (NCCP).
Our Learn-to-Skate programs are offered in two sessions, Fall and Winter. You can sign up for 1 or both for the full season. (When signing up for both you pay the Skate Canada fee only once.)
Pre-CanSkate
(

Ages 3-5

)

Our Pre-CanSkate program covers badge 1 of the CanSkate program for children age 3–5.

Skaters will be on the ice with the coaches and assistants, parents are not on the ice in this program. When the program is held on the small Ice Pad rink we request that during the first couple months parents stay behind the glassed off area to allow the skaters time to adjust to their new coaches and friends. After this time parents will be invited in by the program coordinator, a few each week, to view rink side from inside the ice pad area.** This season the sessions will be held on the large ice surface.
| | | | |
| --- | --- | --- | --- |
| Day | Fall session 10 Week | Times ( 30 minutes) | |
| Tuesday | October 12 - December 14 | 6:30 pm - 7:00 pm | |
| Thursday | October 14 - December 16 | 6:40 pm - 7:10 pm | |
Winter times and dates - TBD
FEES
$140 /10 week Fall Session +

once per skating season

costs of Admin Skate Canada Fee* $48
CanSkate
(Ages 5+)
Our CanSkate is our program for ages 5+ or skaters that have completed Pre CanSkate badge #1.
Parents can get their skaters ready in an assigned change room. The change room schedule is posted above the arena admin office. Skaters will take the ice at the first ice door near dressing room #1. Parents are not permitted to remain at the boards, parents may watch from the lobby or the stands. DUE TO COVID-19 LIMITATIONS AND FACILITY RESTRICTIONS, THE NUMBER OF PERMITTED SPECTATORS IS EXTREMELY LIMITED. Parents are encouraged to drop their children off and return at the end of the session. Canskate begins with a group warm up and then the skaters divide into 4 colour groups on the ice. The skaters rotate through 3-4 stations, each with a different skill goal. Canskate ends with a group cool down activity.
| | | | |
| --- | --- | --- | --- |
| Day | Fall session 10 Week | Times ( 60 minutes) | |
| Tuesday | October 12 - December 14 | 6:20 pm - 7:20 pm | |
| Thursday | October 14 - December 16 | 6:30 pm - 7:30 pm | |
Winter times and dates - TBD
FEES
$280/10 week Fall Session +
once per skating season
costs of Admin Skate Canada Fee* $48
Parent / Guardian Supervision
DUE TO COVID-19 LIMITATIONS AND FACILITY RESTRICTIONS, THE NUMBER OF PERMITTED SPECTATORS IS EXTREMELY LIMITED. Parents are asked to follow one skater to one parent / guardian in order to maintain social distancing numbers.
A full outline for arena protocol can be found in the Covid-19 Information Centre on this website.
Equipment
Proper equipment is essential to becoming skilled in most sports and skating is no exception! Skaters cannot learn skills unless their skates fit well and support their ankles. If your child cannot walk across the floor holding his/her ankles up it is highly unlikely that he/she will be any better on the ice.
It is important to remember that learning to skate should be a fun and successful experience. It should not be lessened by poor quality equipment or physical discomfort. A well thought out purchase of good skates will encourage enthusiasm and excitement in anyone learning to skate.
If at anytime you have questions or concerns regarding your equipment, please consult with any of the Club coaches.
Skates
Wal-Mart, Canadian Tire and Sports stores sell skating equipment in a variety of price and quality ranges. Before buying skates, check carefully for:
Proper fit
Firm Ankle support
Laces and hooks,

not buckles

Good quality leather (no plastic)
NO BOBSKATES or SKATE TRAINERS
Avoid buying larger size skates for skaters to "grow into". If you buy children's skates too loose, they will interfere with the skating and may actually be dangerous because of lack of support.
Note: For those skaters who move onto the Figure skating program after badge 6 to Juniors please read the Juniors section for Skate equipment to ensure the best experience and advancement for your skater.
How to ensure correct size of skates
Wear only one pair of socks or tights (the same pair that will be worn when skating)
Partially unlace boot through instep
Slide foot forward so toe can touch the front but not cramped
Stand with weight equally distributed over both feet—bend knees
The space at the back of the heel should be no more than a pencil width
Don't forget to check if the width of the skates fit the foot—they should be snug but comfortable.
Walk around in the skates off the ice; they should feel comfortable.
How to tie skates
Once foot is placed comfortably in the boot.
Be sure the tongue is centered and pulled all the way up.
Start at the toe of the skate and tighten laces comfortably over the toe and front of the boot
Before tightening the hooks, wiggle your toes to make sure the skates feel comfortable.
Tie laces snugly around the ankle and tie a tight bow or double knot.
Make sure extra lace is tucked away
Please Note:
When tying skates do not wrap laces around the ankle. If you feel you need to do this for more support, you probably need a new pair of skates! If you are doing this because the laces are too long – just cut them.
Sharpening your skates
All new skates and skates that have not been skated on for a month will need to be sharpened before you skate on them. Re-sharpen skates after approximately 20-30 hours of skating. More frequent sharpening may be required, if the skater walks on concrete, rubber or carpeted surfaces without guards, if the blades are not wiped dry, or if there are severe nicks and rough surfaces on the edges of the blade.
Do NOT remove the bottom pick on figure skates. The pick is part of the design of figure skates and is essential to proper balance.
Helmets
Helmets are mandatory for all skaters in the Pre CanSkate and CanSkate programs and MUST be CSA approved! Pre CanSkate skaters MUST also wear a face guard attached to their helmet.
Bike Helmets are not permitted.
Helmets should fit snug and both the helmet and strap should be adjustable.
Care of Equipment
Always wear protective guards when not on the ice. Do NOT walk on concrete surfaces without skate guards. Sharpening and blades will wear much faster, and are damaged severely by the surface.
After a lesson, dry blades and sole plate completely with a cloth. This will prevent the blades from rusting. Always remove guards and allow skates to air dry completely after each skate.
When not in use, remove skates from the skate bag and leave them in the open so that they can air dry thoroughly, allowing the leather to breath.
Skating Clothing
The rink is cold so remember to bring extra clothing and layer when possible.
Pants/Jackets - To keep your child warm, snow pants or windbreaker pants over long pants are recommended. Sweaters and turtlenecks or a winter jacket on top should be sufficient. Try to avoid clothing that is too bulky, restrictive or not waterproof.
Mitts/Gloves – Bring at least 1 pair of warm gloves each day and have a back up pair in case they get wet. Put a few pairs of gloves in the skating bag at the beginning of the season and you won't have to remember to bring them each time.
Making the first day a success
Our coaches recommend that you have your child put their skates on at home a couple of times and walk around on the carpet with guards on.
Make sure to also put the helmet on at home a couple of times. Doing this will take some of the anxiety out of the first day as they will at least be familiar with the feeling of the skating equipment.
Another recommendation is to tell your child that you will not be going on the ice with them but will be watching from the stands or lobby. You will however see everything that they are achieving and you hope that they HAVE FUN!
Communication
Please check your email, the club website, the white announcement board near the board desk at the area during sessions, on a regular basis for information and updates. Please ensure the club has your current email address, you can change this in your account at any time.
Report Cards
Coaches are constantly assessing a skaters progress. Twice each season their progress is marked in report cards (December and March). Report Cards will be placed in the skaters file folder. Reports show if a skater has completed the next stage or skill, if they have they will receive a badge for the completed stage or skill.
Please note: Skaters who register after the 5 week mark may not receive a full assessment.
* Fee includes a small administration fee and the compulsory Skate Canada fee for skaters registering in Skate Canada sanctioned clubs. Skate Canada, the national governing body responsible for the development and administration of skating in Canada, is the largest skating association in the world. With skating programs for athletes of all ages, offered at clubs and skating schools across the country, Skate Canada is an association dedicated to providing every Canadian the opportunity to learn life skills while experiencing the power, strength and creativity of one of Canada's premier sports.